Bands aus Schottland // Bands from Scotland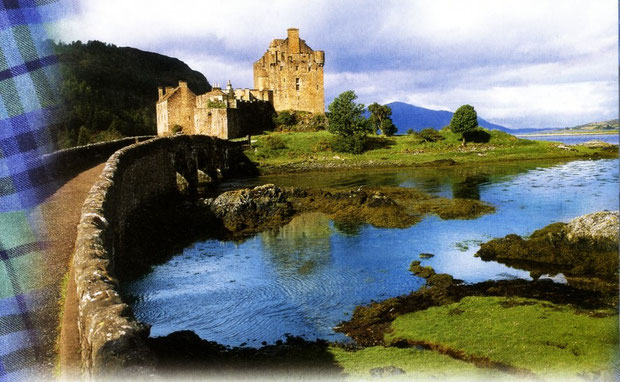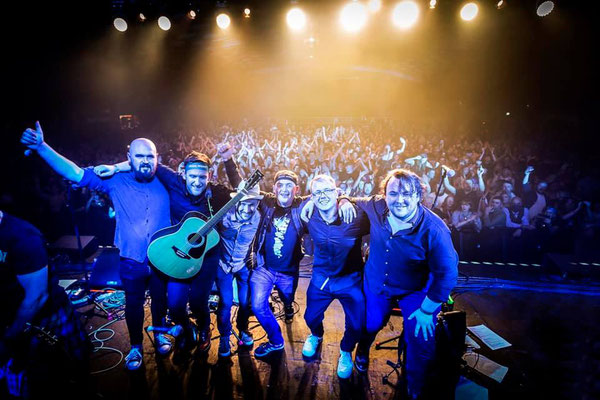 TRAIL WEST (SCO)
Scottish Traditional 'West Coast' Ceilidh Band
ABOUT
Alain Campbell: Guitar/ Whistles
Allan Nairn: Electric Guitar
Andrew Findlater/ Drums
Ian Smith: Accordion
Jonathan Gillespie: Keyboard
Seonaidh MacIntyre: Whistles/ Pipes/ Vocals & Guitar

Trail West are a band leading the thriving scene of Gaels in the city of Glasgow.
Having started out as a four-piece line-up with strong links to the Hebridean Isles of Tiree and South Uist, Trail West now perform as a six-piece outfit with the addition of Jonathan Gillespie from Glasgow on keyboard and vocals along with Allan J Nairn from Ardnamurchan on electric guitar.
To date they have released four albums, showing the band's progression with a wide selection of songs becoming an integral part of their repertoire alongside the recognisable accordion and whistle combination of Seonaidh MacIntyre and Ian Smith.
2020 was supposed to be a very special milestone, celebrating Ten Years of Trail West. As with the majority of events over the course of the year, the celebrations were put on hold, including the main event which was a first ever headline show in the famous Barrowland Ballroom in Glasgow.
Despite the restrictions, the 10th year could not pass without some form of celebration and in November, Trail West announced their fourth album, 'Countless Isles and Endless Miles', most of which was recorded in February before the restrictions came in but which was subsequently delayed  due to Covid-19.

Home:https://www.trail-west.com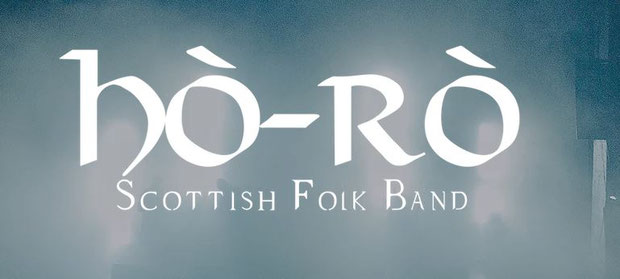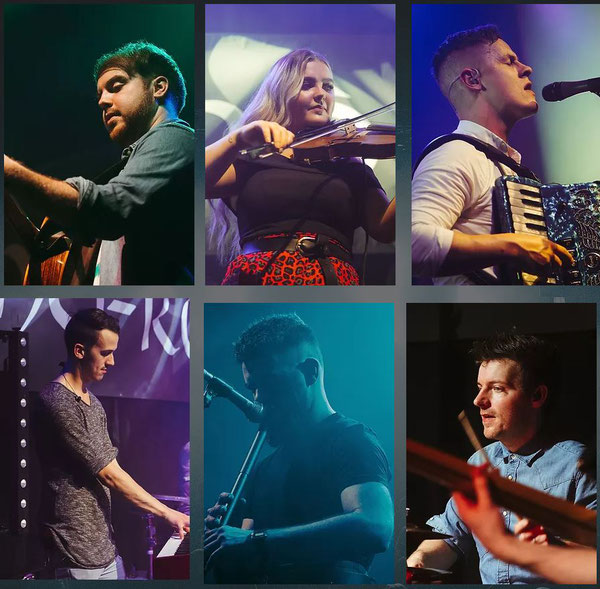 HÒ-RÒ (SCO)
Scottish Folk Band

From a humble beginning in the Scottish Highlands & Islands, Hò-rò are gradually becoming a force to reckon with in the Scottish music scene. This group has held their audience spellbound with their energetic performance, musical tune arrangements everywhere they perform in Scotland. The group released their debut album in the summer of 2016, and the acceptance has been remarkable with colossal success recorded in album sales. With a line-up that features bagpipes, border pipes, accordion, fiddle, and whistles; musical instruments that are aligned with traditional Highland music combined with the sounds of guitar, keyboards, drums, and bodhran, Hò-rò can play diverse styles and produce a set that features rich musical textures. This instrumental mix is complemented further by both the unbeatable poetry of Gaelic song and the vivid storytelling of the Scots song genre.
Home: https://www.musichoro.com/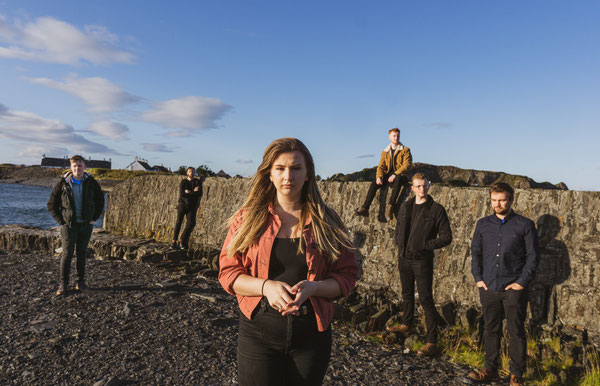 HERON VALLEY (SCO)
Deeply rooted Scottish Band

About The Music
In the quiet, furthest reaching parts of Scotland; authentic, skilful, energetic celtic music
has been passed down from generation to generation. Heron Valley capture the iconic
sounds of the bothies, village halls and kitchen ceilidhs. Inspired by their previous three
tours of the USA, the band have been developing their sound, shaped by the people they
have met and the beautiful lands they have encountered.
The history of the Great Highland Bagpipe, the Irish banjo, the West Coast fiddle mixed with
the driving accompaniment of the piano and guitar are just some of the aural delights you
will experience, captured in their latest release, "Erie Storm".
With a mixture of traditional Scots and original songs, Abigail Pryde tells stories from the
places we were born. From the rugged Atlantic islands of the Outer Hebrides, to the
mystical hills of Argyll. These musicians are passionate about their heritage and showcase
the culture, language, sounds and stories of their homeland in their music. Let Heron Valley
transport you to the heartlands of Scotland, through their dynamic performance of the
ancient sounds of their home.

About The Band
Heron Valley are an energy fuelled, traditional band from Scotland. Their roots lie in Scottish
and Irish traditional music, including traditional Scots song, Scottish piping tunes and Irish
banjo. The six-piece group comprises Abigail Pryde on Fiddle and Vocals, Keith Morrison on
Keys, Nick Hamilton on Banjo and Guitar, Alastair Maclean on Bagpipes and Whistles,
Callum Cronin on Bass and Guitar and Darren Brown on Drums.
Their inception as a folk band began in 2014, after spending the first few years of their
musical careers perfecting their craft as a young ceilidh dance band. In 2018 they formed
the line up you now know, when they embarked on their first tour of the USA.
Coming from vastly different areas of Scotland (Oban, Lewis, Cowal, Glasgow, Campbeltown
and Stirling ) you are sure to hear an excellent story or two from Heron Valley, and maybe
even some Scots language lessons! In 2015 the band released their first single and music
video, a set of tunes, 'Pressed for Time'. The storyline takes the band from performing out
on a moving boat on the beautiful Loch Fyne in Argyll, to their journey to and performance
at a gig in a local dance hall. This was extremely well received and racked up 85K views,
with people all over the world purchasing the single.
A year later, they released their second single and video 'Home'. This time, they set off at
3AM to climb up Beinn an Lochainn, a hill in the west coast of Scotland residing beside the
Rest and Be Thankful, a stunning area with many a story itself. The video sees this journey
from bottom to top and shows them playing on cliff edges in the beautiful area where
Abigail grew up. From this, the band set off to the USA and EU and continued to release
more music includingtheir debut album 'Roam', single 'Take you There, single 'Springburn, just shy of Ireland' and EP 'Erie Storm'.

Press

'Particularly impressed by the structure of their
set, building up the energy incrementally in a
series of waves, taking the audience along with
them every step of the way.'
Johnny Walley at Folk Music Radio

'The energy in the room was unmatched and
Heron Valley gave us one hell of a show'
Kitty Hoynes, Syracuse
NY

'Their technical ability is beyond good,
and everything gels together into a
natural-sounding maturity that belies
their years'
Gordon Potter, Living tradition

'If EPs are the way to go, for musicality,
variety and sheer bravado of youth, Erie
Storm is one bell-weather CD'
Sean Laffey, Irish Music Magazine

'Heron Valley are a very
accomplished set of
young musicians'
Frank Finlayson, Inverness Gigs

'The energy and enthusiasm comes across clearly
in their ernest female fronted vocals. Heron Valley
have noticeable finesse in the layering of fiddle,
guitar, pipes and banjo.'
Mike Rushby, MNPR Magazine
Home: https://www.heronvalleyband.com/

ÍMAR (SCO)
Scottish Trad Band

There are many reasons to be excited about new Glasgow-based five-piece Ímar – not least a line-up featuring current and former members of Mànran, Mec Lir, RURA and Talisk, whose collectively crammed trophy-cabinet includes several BBC Radio 2 Folk Awards and All-Britain/All-Ireland titles. By far the best and biggest reason, however, is how excited the band are themselves.

"As soon as we all sat down to play together properly, it just worked," says bodhrán player Adam Brown (RURA), originally from Suffolk. "We were a bit stunned, to be honest; all looking round at everyone else, thinking, 'Is it just me, or was that really good?'"

"It's definitely more of a pure-drop trad sound than most of the other bands we're involved in," adds Cork-born uilleann piper, flautist and whistle player Ryan Murphy (Mànran), "but I think that's partly why it feels so natural. We're going back to the music we started out playing – which is ultimately the reason why we're all here as musicians."

Ímar's formation also embodies a more personal reconnection with its members' formative years, dating back long before their recent camaraderie around Glasgow's justly celebrated session scene. All five of them – also including fiddler Tomás Callister and bouzouki ace Adam Rhodes (Mec Lir), both from the Isle of Man, plus Glasgow native Mohsen Amini (Talisk) on concertina – originally met as teenagers through Comhaltas Ceoltóirí Éireann, the Irish traditional music network that tutors budding players throughout the British Isles and beyond, and stages the annual schedule of Fleadh competitions.

It was via the latter that Ímar's paths first crossed, as its future members began to amass what's now a heavyweight collective haul of top prizes - nine All-Ireland and eight All-Britain titles between them - while Murphy is also a double winner of the prestigious Oireachtas contest. Bringing the tally of accolades up to date, Amini won the 2015 BBC Radio 2 Young Folk Award with Talisk, as well as a Danny Kyle Open Stage Award at the Celtic Connections festival, and is also 2017's BBC Radio Scotland Young Traditional Musician of the Year and 2018's BBC Radio 2 Folk Musician of the Year. In 2015, meanwhile, Brown celebrated RURA's crowning as Live Act of the Year, at the Scots Trad Music Awards.

"We all have a really strong shared background in Irish music – even though we all live in Glasgow, and only Ryan's actually from Ireland," Brown says. These foundations underpin many of Ímar's distinctive qualities, in both instrumentation and material, while also highlighting the cyclical evolution of Scotland's wider folk scene. Go back a couple of decades or so, and Irish repertoire still predominated at many Scottish sessions and gigs, whereas today Ímar's sound stands out boldly from the crowd.

"You won't often hear anyone in Glasgow playing slides and polkas," Brown points out, "but even in the very first sets we put together, that's what we naturally gravitated towards."

Following their musical apprenticeships, the five went their separate ways for a spell. In Murphy's case, after a Diploma in Traditional Irish Music Performance from the London College of Music, he studied in Limerick at the Irish World Academy of Music and Dance, under Niall Keegan and Mícheál Ó Súilleabháin. Having formed his first band, Éalú, at 18, he subsequently toured with German-based Celtic outfit Cara for four years, before moving to Glasgow to join Mànran in 2013.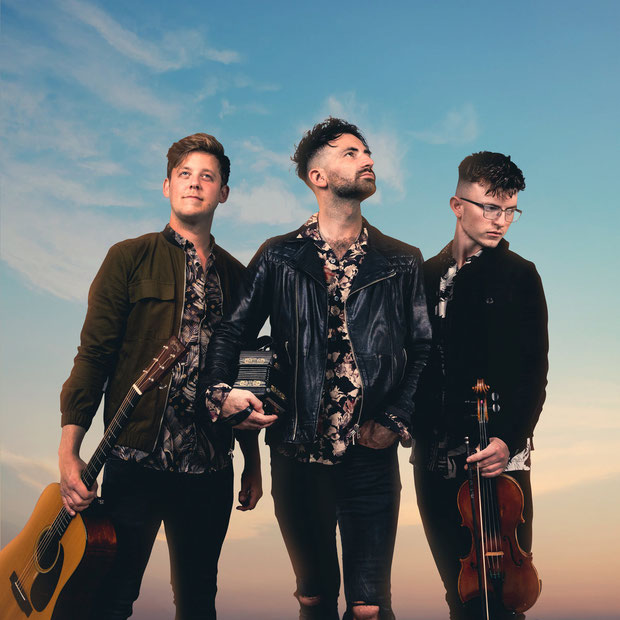 TALISK (SCO)
Scottish TrioTrad Band

Ground-breaking, chart-topping, genre-bending, globetrotting, instantly enthralling… it's little wonder that Talisk rank highly amongst the most in-demand folk-based groups to emerge from Scotland in the last decade and more.

Mohsen Amini (BBC Radio 2 Folk Awards' Musician of the Year), Graeme Armstrong and Benedict Morris  (BBC Radio Scotland Young Traditional Musician of the Year) fuse concertina, guitar and fiddle to produce a ground-breaking, multi-layered signature that has captivated audiences around the globe. At its core, three seemingly acoustic instruments - but in the hands of three master craftsmen; one unmistakable, bold sound and captivating live show.   

Talisk have toured the world, stacking up major awards for their explosively energetic, artfully woven sound - including Folk Band of the Year at the BBC Alba Scots Trad Music Awards, a BBC Radio 2 Folk Award, and the Belhaven Bursary for Innovation. Appearances at leading festivals across multiple continents have amassed a die-hard following - including closing out Saturday night's main stage at the 2019 Cambridge Folk Festival, Denmark's Tønder Festival, the Rainforest World Music Festival in Malaysian Borneo, WOMADs UK, Chile and Las Palmas, Edmonton Folk Festival, Milwaukee Irish Festival, three back-to-back years at the Philadelphia Folk Festival, and six appearances at Glasgow's Celtic Connections.

Following their critically acclaimed debut, Abyss, Talisk's sophomore album, Beyond, quickly amassed five star reviews and rose to No.1 in the iTunes world music charts upon its late 2018 release. With streaming figures into multiple millions, and new music on the horizon in 2022, audiences worldwide are hotly anticipating the latest chapter from a group lauded by leading world music magazine Songlines as: "incredibly infectious and endearing… fresh, invigorating, accomplished."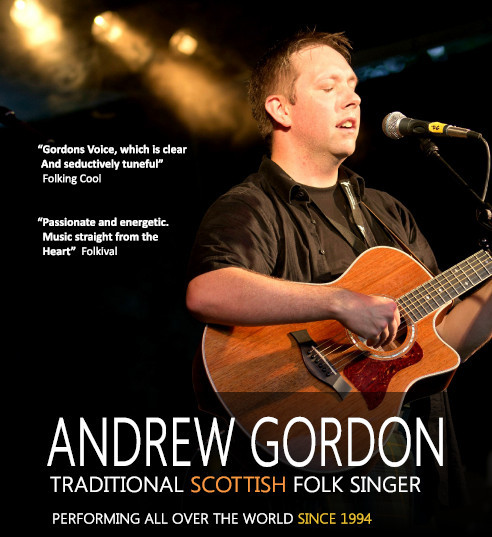 ANDREW GORDON (SCO)
Traditional Scottish Folk Singer

http://www.andrewgordon.co.uk
https://www.facebook.com/scottishandrewgordon
Over the course of his career he has performed in venues as far reaching as San Francisco, Minneapolis, New York, Grand Rapids, South Bend (US). Toronto, Collingwood (Canada). Amsterdam (Holland). Borken, Gladbeck, Menden, Gescher, Stuttgart, Nurtingen, Hei(de)land Games, Bremen (Germany).
Kongsberg, Notodden, Trondheim (Norway), Slagelse, Rude. Soro (Denmark). As well as all over Scotland.

Andrew Gordon has been a folkie for as long as he can remember. Brought up listening to the music
of The Corries, Andrew developed a deep love of Traditional (and not so traditional) folk music. He
started playing when he was 13 and had his first solo performance at 17 supporting Gaberlunzie in
The Kings Arms, Perth in 1994.
Like many Scottish musicians, Andrew remembers the days when the family and neighbours would
gather at Hogmanay, to drink, sing songs, and make merry. It was this community aspect that first led
Andrew to get involved, and he became a regular at sessions around Perthshire in his early career.
Things really began to take off for Andrew in 1999 when he played his first overseas gigs, visiting San
Francisco and racking up 9 gigs in 3 weeks.
Andrew steadily increased his profile, and the opportunity to live and play in North America proved too
exciting to turn down and Andrew moved across the pond in 2004. Over 18 months he performed all
over Ontario, Michigan and Indiana. On returning to Scotland in 2005 Andrew picked up where he left
off, and started building a touring schedule in Europe. Andrew now performs in Germany several times
each year, and is a regular at Stadthalle Gladbeck, Hermannsburg Hei(de)land Games, Folkival Festival in
Nurtingen and the Kutschenmuseum Gescher as well as venues in Stuttgart, Wezlar, Grevenbroich,
Hagen, Altena, Borken, Bremen, Celle, Bad Fallingbostel and Esslingen. He also has annual trips to Norway and Denmark. Andrew has also been lucky enough to perform with Skerryvore and The Red Hot
Chilli Pipers in Scotland, and with Sean Cannon from The Dubliners at Stadthalle Borken.
Andrews' music features a rich mix of traditional and contemporary Scottish songs. Some Irish, Canadian
and English tunes also make it into the set. Folkingcool.co.uk said there was something compelling
about Andrew's music and passion. Fellow musician Brian Higgins has always been a fan of the "robust"
rhythms on both guitar and bodhran that Andrew uses to accompany his distinctive and passionate
singing. Andrew believes that one of the reasons audiences get behind his music is that he "gives it
some welly".

The last few years have been very successful and Andrew has been playing more and more venues,
racking up around 100 shows each year.                                                                    


SKIPINNISH (SCO)
Ich habe von Juni 2016 bis August 2019 (Letzter Gig bei Folk am Neckar am 03.08.2019, ausverkauft) für die Band als Booker in Deutschland gearbeitet. Ich bin mit der Band sehr gut befreundet und bedanke mich sehr für das mir entgegengebrachte Vertrauen.
Zur Info: Die Band hat sich Anfang 2019 entschieden mit Mark Green (Ex Tourmanager RUNRIG) zusammen zu arbeiten. RUNRIG hat ihre großartige Karriere nach mehr als 40 Jahren 2018 in Stirling beendet. Das freut mich für die Band, konnte ich in Deutschland doch einige Türen für die Jungs öffnen können.

Hinweis: Veranstalter die SKIPINNISH gerne buchen möchten nehmen bitte mit Barry Stewart Kontakt auf, der jetzt für Europa für die Band arbeitet. Ich selbst kenne Barry sehr gut und wünsche ihm für die Zukunft eine erfolgreiche Zusammenarbeit und stehe nach wie vor für jegliche Unterstützung wenn benötigt zur Verfügung.
Neuer Kontakt:
Barry Stewart
Booking/Management/Production
10247 Berlin
Germany
Tel +49 30 50340409
Mobile +49 163 9755705
barry.stewart@barrystewart-concertsandtours.com
Home: https://www.skipinnish.com/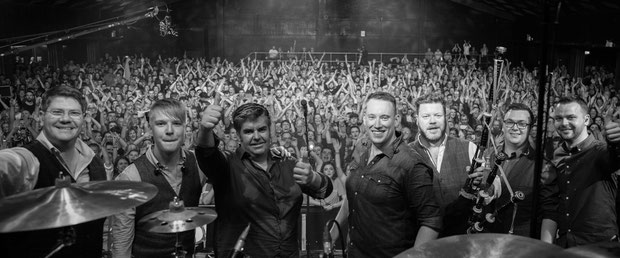 SKERRYVORE (SCO)
Ich habe diese hevorragende Band als Veranstalter einige Male gebucht und betreut. Auch mit diesem tollen Musikern und Menschen bin ich sehr gut befreundet und bedanke mich sehr für das mir entgegengebrachte Vertrauen und die erfolgreiche Zusammenarbeit.

Von SKERRYVORE wird man in den nächsten Jahren noch viel hören. Wenn die Band in Deutschland zu Gast ist, kann ich nur empfehlen - Hingehen, genießen und abfeiern.
Home: https://skerryvore.com